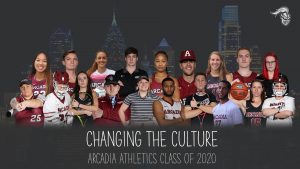 For senior student-athletes across the country, this year was one that was supposed to be full of celebration and storybook endings. While fall student-athletes were able to end their careers on the field, the threat posed by the global COVID-19 pandemic could affect walking across that stage with a cap and gown. Winter student-athletes who qualified for the postseason and the NCAA Tournament saw their seasons cut short, without the opportunity to play in their last postseason. Spring student-athletes were arguably hit the hardest, having almost their entire season suspended due to the Coronavirus. As many of these student-athletes will be losing out on senior year experiences both on and off the field, I wanted to take this difficult time and try to shift the narrative around the Arcadia Athletics class of 2020. While we didn't get the ending that we wanted or deserved, we were hugely involved in changing the culture of Arcadia University Athletics, and that's something we should be extremely proud of and should celebrate.
This blog (which will eventually turn in to a hard copy book) will celebrate the impact of the class of 2020 on each program/team, as well as on Arcadia's athletics department as a whole. As a senior-student athlete who is unable to have these moments with my teammates and my fellow seniors, I wanted to give our class the closest thing to a senior day that we could get. While we may not be celebrated on the field or the court this year, we've left our mark on Arcadia and have so many stories to tell. I want to be able to tell those stories. I'll be posting a blog about each program and the impact the seniors have had, as well as testimonials from members of the administration, coaching staff, and support staff around the Athletics department.
Let's celebrate our seniors, their careers, and the impact they've had on Arcadia.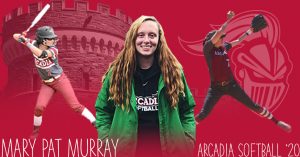 My name is Mary Pat Murray, and I'm a senior Global Media major at Arcadia University.
I'm a member of the Arcadia University Softball team, where I was a three-time member of the All-MAC Commonwealth team and was named MAC Commonwealth Pitcher of the Year in 2019. I helped our team win our program's first ever MAC Commonwealth Championship in 2019, which propelled us to our first NCAA Championships appearance in school history. I was also named National Fastpitch Coaches' Association (NFCA) First Team All-East Region, which put me on the ballot to be chosen as a Division III NFCA All-American. Though I didn't get All-American honors my junior year, senior year was my chance to finally be named an All-American and go out with my team and win another conference championship, head to the NCAA Championships, and win our Regional tournament and make more school history.
The novel coronavirus pandemic had other plans. On March 12, 2020, what was supposed to be my home opener for my senior year turned into my last game on Blankley Field at Arcadia University. All of the goals I had for the season were left unchased, and all of the celebrations for myself and my fellow seniors didn't happen. As a senior-student athlete, losing my entire season and not being able to have those moments you dream of as a senior was soul-crushing. I'm still grappling with this lack of closure and not even being able to have a chance at what I wanted to achieve with my team this year.
As a week or two have gone by, I decided that I wanted to change my senior capstone creative project so it could serve as a way to help our class get through this. I was originally going to be filming a documentary on Arcadia Softball and the championship culture we've built in the past five years, but without a season to play, it would be impossible to get some of the game and practice footage on the field that I would need.
As someone who loves writing, I decided that I would write a book on the student-athletes in my senior class and our impact on Arcadia. Instead of student-athletes focusing on the negatives of COVID-19, I wanted to create a platform where we can reflect and be thankful for our experiences and memories at Arcadia, as well as be proud of what we've done for our programs and for Arcadia Athletics as a whole. My hope is that this might provide some form of closure for seniors and serve as a tangible, lasting symbol of the mark we've left at Arcadia.