For the Arcadia women's lacrosse program, the six seniors have been consistent leaders and have made an impact on the program and off the field. After a 9-9 season, which included going 2-6 in MAC Commonwealth play and making the second round of the ECAC Division III Championship tournament their rookie year, the program saw a coaching change. Under Sam Hosford's first season leading the Knights, the team went 10-9 overall with a 5-3 conference record, earning berths to the MAC Commonwealth Championship tournament and the ECAC Division III Championship tournament.
With the graduation of the class of 2018 and the loss of some underclassmen impact players, the Knights struggled to find momentum and did not make the MAC Commonwealth Championship tournament in the 2019 season. The senior class came into the 2020 season ready to bounce back and lead their team to another MAC Commonwealth Championship tournament berth, but tragically saw their season suspended six games in, due to the COVID-19 pandemic.
"The women's lacrosse class of 2020 has truly impacted our program in ways I could never imagined. They're a group who has given nothing but their all to this program to make it successful," Coach Hosford said.
"I've watched them shed tears, laugh, and fight through their three years here with me. They have faced adversity and have broken through it. When a coach steps into a program, they expect to work on building a culture. The class of 2020, as sophomores, built our culture for us. They changed our program in 2018 and they will forever be talked about as the class that turned everything around."
Senior Jess Kaye reflected on the effect the Coronvirus pandemic has had on her view of lacrosse, saying, "This was supposed to be our year to prove ourselves. The 2020 senior class has never had an easy season. This year was different. We all put in the work and worked so well as a team all over the field. COVID-19 makes me grateful that the lacrosse world is so close and can make light of the situation. I'm heartbroken that I'll never be playing with my team again, but I have to be thankful for all the memories I created throughout my career."
Classmate Caroline Toner had a somber reflection on the way her senior season was cut short. 
"COVID-19 has taken away my season, it's taken away my chance to say goodbye to the sport I love, and it's taken away the chance I had to give my all every game for my team.  I feel as if I'm not finished yet, because I want to be able to give my sport the goodbye I wanted and have the end I felt I deserved from it. I wanted to compete with my team for the last time, and unfortunately none of us knew the last time was it. I wish we had that back."
Senior attack Julia Imbert remarked, "Competing as a senior this past year, I knew I would have to say goodbye to college athletics and Arcadia lacrosse soon, but I didn't think it would be this soon. The last time I stepped out on the field, I had no idea it would be my last. We never had a chance to show what we were capable of and what we had worked so hard for… All those early mornings, all the sprints, all the hours of wall ball…"
"The whole situation surrounding the Coronavirus has allowed me to be so thankful for the time I was able to compete with my team and the memories I was able to make."
Classmate and fellow Long Island native Veandra Selby was heartbroken when she learned her season and career had ended, saying, "My senior season was ripped away from me before conference play even started. After a rough season last year, it was my last time as an athlete to fight on the field. It was my last time to prove myself. We didn't get to show the MAC that, despite our record last year, we were ready to fight and win."
Kaye, who also had the opportunity to play in Israel and combine her love of the sport and her heritage, reflected on her time at Arcadia, saying, "I've gained lifelong friends and most became like family to me. My team and current coaching staff have shaped me into the athlete and person I am today, and I could not be more thankful they entered my life."

Before the shortened season, Kaye played in a total of 57 games, starting 53 of them. She tallied 69 goals and 30 assists, totaling 99 points heading into the 2020 season. She picked up 43 ground balls and totaled 12 caused turnovers, while also winning 91 draw controls. The Healthcare Administration major was also recognized for her performance in the classroom, being named to the MAC Honor Roll both her sophomore and junior year.
Kaye added, "I have had the opportunity to have friendly relationships with many of the staff members, which definitely made my experience the best it could be. I felt welcome and at home every time I walked into Kuch. The athletic trainers have been really important in my career at Arcadia; the staff makes sure that I have correct rehab, resources, and proper tape job done so I didn't have to miss any games. Todd and Sam pushed me to be the best person and athlete off the field. They were there to listen to me on my bad days, and they were there to always put a smile on my face."
"I think the bond every team has makes Arcadia unique. Everyone knows everyone. Attending such a small school means everyone has worked hard to be where they are, and we have the opportunity to support each athlete and cheer them on."
A recurring theme that makes Arcadia Athletics special is that we're a family. Kaye, a New Jersey native, said, "The people make it a family. Each year we get new students, and those new students adapt to the lifestyle we already have on campus. The entire coaching staff is supportive and friendly. I would get a 'good luck today' from any coach I walked past on game day, and it just shows that they care. Every athlete wants every other athlete to succeed in their sport. We pushed each other in the weight room, the gym, or on the field, and even in the athletic training room."
Selby, a senior goalie, struggled to put into words how special the atmosphere of Arcadia Athletics is. She said, "All of the coaches supported the teams, they knew our names, and they cared about our success. The department really makes sure that each and every one of us grows as players, but also as individuals. It was so much more than just being a part of a sport."
Veandra Selby appeared in 33 games in the net over her career before her senior season was suspended. She tallied 320 saves over the past four years, with her save percentage sitting right around 50% for her career. She was selected Second Team All-MAC Commonwealth after leading the conference in saves her junior year, and she was also named to the MAC Honor Roll. Her sophomore year, she was named to the MAC Sportsmanship Team and was chosen to the MAC Honor Roll and the ECAC Academic Honor Roll. A Political Science major on the Pre-Law track, Selby plans to attend law school and become a lawyer.
She added, "This department has meant the world to me. They all care about each other. I spent every day with a member of this department, whether it was at lift, in the athletic training room, or at practice, someone was in my life. Arcadia Athletics means more than just being an athlete. They made sure we were better students, better people, and better teammates. It was about success on and off the field."
Imbert saw the support around the Athletics department as a huge reason for the family atmosphere, saying, "Arcadia Athetics is a family because of the support we give one another as athletes, but also the support of our athletic training staff, strength and conditioning staff, and coaching staff. When one team wins, we all win."
Julia Imbert, a Long Island native, started in 56 games and appeared in 58 before the suspension of her senior season. She tallied 106 goals, celebrating her 100th goal in a win over Elizabethtown before the season was suspended. Over her career, she also totaled 38 assists, which brought her point total to 144. She picked up 47 ground balls and recorded 14 caused turnovers. A Biology major on the Pre-Physician Assistant track, she was named to the MAC Honor Roll her junior year, and she garnered ECAC Academic Honor Roll laurels her sophomore year.
"Deciding to play lacrosse at Arcadia University was probably one of the best decisions of my life. Arcadia has given me a place to grow as an athlete, a person, and a student. It's shown me what hard work and dedication is really about, and that the lessons I learn on the field or in the weight room can also be translated to real life."
Imbert, who garnered the title of Iron Knight for her dedication in the weight room, added, "Arcadia Athletics is so unique because of the culture within the program as a whole and with each team. Together as a whole, each athlete, no matter what team, supports each other. Being able to condition or lift with other teams creates this environment that we have – when one team wins a championship, it's like Arcadia Athletics is winning as a whole."
Senior Caroline Toner echoed the sentiment of Arcadia Athletics being a family, saying, "I had people that were able to have my back no matter what, and people I could come to when I didn't know where else to go. If there was ever too much going on, I knew I could go to escape at practice or at lift and if it followed me, I could talk it out with whoever was with me." 
Toner appeared in 51 games for the Knights prior to her suspended senior season, and she started in all but one of those games. The defender tallied 89 ground balls and 46 caused turnovers, as well as 36 draw controls. She scored five goals and totaled two assists for seven points.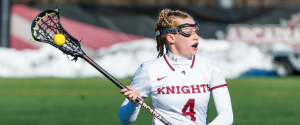 During her junior year, she was named to the Intercollegiate Women's Lacrosse Coaches Association Academic Honor Roll, as well as to the MAC Honor Roll. Her sophomore year, the Actuarial Science major was named to both the MAC Honor Roll and the ECAC Academic Honor Roll. 
She added, "I think the staff makes the atmosphere unique. You have so many different types of coaches at this school, but no matter what, every single one of them says hello to you when you see them. You can call that kindness, but I think it's just part of the positive and motivational atmosphere that Arcadia provides. Todd pushes all his athletes to be the best they can be, and so do the trainers. Every part of the Athletics staff makes you want to perform your best."
"We all support each other and we're all proud to be a part of the Arcadia athletics program. Athletes wear their team name proudly every time they step into the Kuch Center. We are all a family – we know how hard it was for everyone to get where they are, and we know the hard work that goes into being an athlete. We're all there to support and encourage each other."
Kaye said, "You never know when the last time you step on the field will be… Never take any relationship you have for granted and make good memories with the people in your life. Never take playing your sport for granted, either. Lacrosse has taught me so many life lessons and has shaped me into the person I have become."
"My teammates have been a major part of my life and have been there for a lot of big moments in my life, good and bad. I wouldn't trade any of them for the world. My team has made me a better person and made me realize that, no matter the background someone comes from, we all deserve acceptance. My teammates have become like family, and I would do anything for them."
Kaye was one point away from her 100th career point when the season was called off. Even though she said she would have loved the chance to get one more goal or one more assist to reach that milestone, she said, "I wouldn't change anything. I gave my all every day and left it all out on the field each game."
When asked what she wanted to leave behind to the program moving forward, she said, "Hard work pays off. I came in freshman year and didn't start my first game, but I came out to practice the next few days and proved myself, and I ended up starting over a senior. I put in the hard work over the past four years, and it paid off for me."
Selby dealt with adversity throughout her career, and when asked what the biggest lesson she's learned was, she said, "No matter what you're struggling with, you can get through it. After an injury, I thought I would not come back the same player. However, with the help of everyone, I came back and was strong. The comeback is always better than the setback."
"Adversity and struggle helps a team. Each of us have fought our own battles in our life. We come together for the love of this sport. Take that mindset and run with it. We are all here and a part of this team for a reason. Lacrosse is more than just a game for all of us. Never take it for granted and be good to each other, on and off the field."
To her teammates, she said, "Thank you guys for being there when I was down, when I was mad, when I was happy. It takes more than being a part of a team to be teammates. Thank you guys for making these last four years as memorable as they are. We have been through a lot together, and that made us stronger. I wish you all the best in your lives – you're my family."
Selby said to her coaches, "Thank you for being the people I could go to with everything, and for making sure I knew my mistakes and how to make them better. Thank you for making sure I grew as a person. Thank you for making me better at the game each and every day. You guys taught me how to win, and that if you lose, you can't sit back and wait for solutions to be better. You taught me how to create those solutions to be better."
When asked about the legacy she wants to leave behind at Arcadia, Selby said, "I hope that I left behind an attitude of grit and leadership. I think that, despite what I had going on, I showed up to lacrosse ready to play. As a two-year captain, I hope that my leadership impacted the program. I hope I left behind the mindset of self-accountability and hard work. It's always more than a game."
"I would have liked to win that last game that I played, but it's so much more than that. They always say play like it's your last time, and I never knew how much that truly meant until now. I would have celebrated my last save, and someone else's last goal more."
Imbert addressed her teammates, saying, "Thank you for being my best friends, for supporting me on and off the field, and for pushing me through hard practices and workouts, and for putting a smile on my face, whether it was at a 6am practice or during a sprint test.

Thank you for being with me through the highs and the lows. The type of relationship that I have with my teammates is one that I'll never be able to replace or recreate. We've been through so much together and I can't say thank you and I love you guys enough."
"Never take this program or being a college athlete for granted. It is a privilege to be a college athlete and even more of a privilege to play for this program. Every time you step out on that field, into the weight room, or into the gym, give it 100%, because there won't always be a next time."
To her coaches, Imbert said, "I can't thank you enough. You saw potential in me when I didn't see it, and you held me to a higher standard when I didn't think I could achieve it. To Sam, thank you for always putting a smile on our faces and putting in the time to help us work on the little things. To Todd, thank you for never letting me say 'I can't' or have doubt in myself, and thank you for always making me strive to be better."
"To Coach Haley, thank you for pushing me outside my comfort zone and never letting me settle. Thank you for continuously pushing me to be better. To Coach Hosford, thank you for always having our backs and never letting us forget what we're capable of. Thank you for the support you've given me the past three years as an athlete and a person. Thank you for never giving up on me or our team and for always holding us to a higher standard."
If she could step on the field one more time with her teammates, Imbert said she would appreciate every little moment that she might not have before, and would be grateful for everything and not taking anything for granted.
Reflecting on her biggest lesson she's learned in playing four years of college lacrosse, Toner summed it up in one word – patience.
"I've learned you need patience with others, especially on a team where not everyone is thinking exactly like you are. You need to work hard to get where you want to go, but you need to allow yourself the time to get there. Conquering new tasks doesn't always happen overnight."
Addressing her teammates, Toner said, "I'm proud to be on your team, battling in games beside you. I want to say thank you for allowing me the opportunity to learn about you all through practices and games. My team is made up of the most hard working athletes I've ever met, and I know this absence in their season will put a fire in them for next year. I wish I could be there with them next year by giving my all every day, but that's not in the cards for me anymore. I can only say that I'll be cheering them on from the sidelines and motivating them to do their best."
"I want to leave a message of empowerment to this program. I wasn't able to play many games my junior season, but I pushed hard to recover and come back better than ever. You need to believe that you are capable to do whatever you put your mind to. It's one thing to think about accomplishing something, but you also need to know that you can. You're all capable of anything and you need to believe that."
Toner continued, "To my coaches, I want to say thank you for giving me the opportunity to play for you. Thank you for showing me how to be a leader on and off the field. I will never forget the experiences I've had on the field and off the field as a part of this team. You've brought us closer as a team and as friends, and that's something I'll always be grateful for. These bonds will stay with me for life."
She reflected on what she left behind for Arcadia women's lacrosse, saying, "I hope I've left behind a legacy of hard work. I want people to think of me as someone who fought hard for what I wanted to succeed, as someone who, no matter what, always got back up after being down. I hope I've been able to show you that you can come back from anything if you work hard at it."
"Seniors become leaders," remarked Hosford. "For the women's lacrosse seniors, I'm so sorry this is how it had to end. You guys have been nothing but amazing. I am forever grateful that I got to coach such a selfless group of student-athletes who taught me that there's so much more to lacrosse."
To Julia Imbert, Caroline Toner, Jess Kaye, Shannon Ryan, Kirsten Pedicone and Veandra Selby, thank you for all that you gave to Arcadia, and thank you for leaving your mark.