Flame Game: A Podcast About Controlled Burns
Episode 2: The Amazing Past of Controlled Burns
Featuring Trinity Norwood and Dr. Marc Abrams
Now that we've been introduced to controlled burns, the second episode of my podcast explores where the history of fire-adapted forests came from. Since fire-adapted ecosystems exist, that means that fire must have been a common occurrence within these forests to require that adaptation in the first place. The second episode focuses on what researchers believe is one of the main historical reasons for these fire adapted ecosystems to have persisted and reacted to fire in the first place: Native Americans. It is believed through oral histories passed down through various Native American tribes, but also from anthropological studies done on the land (testing soils from historical settlements etc), that Native Americans practiced forest management involving burning as part of different aspects of their lives. This practice done by Native Americans has had an invaluable influence on the composition of our forests, as it began long before western colonization. Native American knowledge of sustainable forest management is now being more utilized to inform current forest management practices to help change the stigma of fire. This partnership in understanding forests has been integral in learning how to prevent the large-scale out-of-control wildfires that threaten many parts of the United States and the world. I talked with Arcadia University alumna Trinity Norwood who is a citizen of the Nanticoke Lenni-Lenape nation, and Dr. Marc Abrams, a forest ecology professor at Penn State University, to gain insight into these connections and why exactly fire was used in the past by Native Americans.
For some more information on this topic you can start with these lectures and articles, but understand that this is just a snapshot of the research and perspectives that exist. Watch the lecture with Dr. Abrams on the Schuylkill Center's Youtube  Here's an image that shows Pennsylvanian Native American tribal areas and then the shift of their land due to western colonization.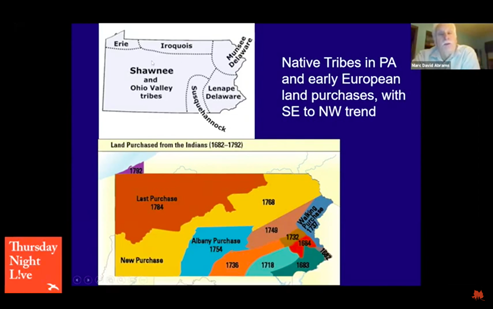 For more information on Trinity Norwood and the Nanticoke Lenni-Lenape Nation check out this interview she did with WXPN
These articles by The Nature Conservancy, The New York Times, and NPR describe how indigenous people are getting involved in starting controlled burn programs.