Biggest Winners and Losers of 2021 NFL Free Agency So Far
As of March 17th, all NFL offseason trades and signings became official– but we all know that stuff was happening all over the NFL beforehand.
There's been a ton of surprising moves that have made this offseason exciting and kept guys like Adam Schefter plenty busy on Twitter, but excitement doesn't always add up to success. We've seen teams spend big in FA flop the following season.
With that being said, let's take a look at the winners and losers of this offseason period so far: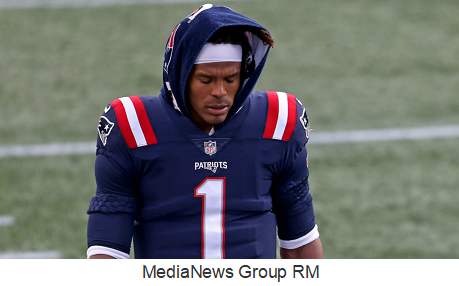 New England Patriots:
Unless you've been hiding under a rock avoiding pro-football related news, then you probably know about the gigantic splash that the Patriots have made over the course of just a few days.
Getting some key-returning starters back and healthy for his defense wasn't good enough. Belichick went out and signed standout pass rusher Matthew Judon, an underrated interior defensive lineman in Davon Godchaux, and veteran DB Jalen mills. Not to mention they were able to claim LB Kyle Van Noy after he was released from Miami.
 Yes, the team shelled out a good chunk of money, but all of these guys will most likely start on this defense and have a sizable impact. Plus, I think that they were able to get impactful players at the correct value, without overpaying at all.
 Offensively, the Patriots really struggled to score last season. Cam Newton came over as a free agency and showed some promise as a dual threat early in the season, but things slowed down as he lost some key pieces due to injury and COVID throughout the season (WR Julian Edelman, Sony Michel, Marcus Cannon, etc.). So, the team went out and made sure to up the offensive side of the ball too.
 Right off the bat, New England traded for Raiders OT Trent Brown and went out and signed the former Titans TE Jonnu Smith. Then, signed WRs Nelson Agholor, Kendrick Bourne, and another stud TE in Hunter Henry– all on top of keeping former MVP QB Cam Newton with the team.  They also signed C Ted Karras.
 Within just a few days, New England was able to solidify all 3 levels of their defense and provide Cam Newton some legitimate weapons to work with on offense.
 A lot will say the Patriots spent too much money, but I really feel like these were big time moves to put them back on the playoff potential radar in the AFC.
 The Patriots have definitely been winners so far.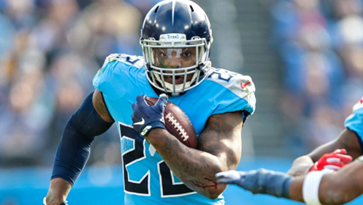 Tennessee Titans:
 Personally, I think the Titans have a very narrow window in which they can win a Super Bowl. Offense is their strong point, but how much longer can Derrick Henry run for 2,000 yards and touch the ball 400 times a season? How much longer can 32 year old Ryan Tannehill sling the ball 50 yards downfield? Well the key for longevity in the NFL in terms of championship contention is to be perfect in the off-season (trades, FA signings, and the draft).
       So far, the Titans have lost key weapons in Jonnu Smith, Corey Davis, and 2020 first round selection Isaiah Wilson, which is not a good start.In an attempt to rebuild their defense, the Titans were able to bring back LB Jayon Brown and sign veteran players in DB Janoris Jenkins and DT Denico Autry.
     However, they also signed ex-Steeler edge rusher Bud Dupree to a huge 5-year, 85 million dollar deal, which I think is very overpriced for a guy with his production rate. In six years with Pittsburgh, he has only had double digit sacks once and had more than 40 tackles (as a LB) twice. Last season his overall player grade ranks in the "middle of the pack" at 60.2 (ProFootballFocus). It's also important to mention that Dupree has largely been successful due to his unique athletic ability, and coming off a torn ACL last season may be harmful to his production.
       In terms of his inconsistency, his recent injury, and the downgrade in relation to the talent around him on defense– paying him high-end pass rush money could prove to be harmful for the Titans if it doesn't work out.
      The Titans still need to bolster their secondary after they cut Adoree Jackson and Malcolm Butler… Janoris Jenkins will not be enough to hold up that unit.
   Based on the significant players they've lost on both sides of the ball, and the huge risk they took on Dupree, I have to grade this as a loss so far.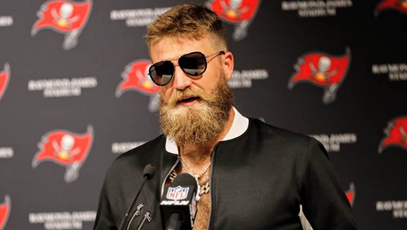 Washington Football Team:
At the start of this offseason, it was very plausible to say that Washington is ready to contend for a Super Bowl. They have one of the absolute best front sevens in the NFL, an elite weapon offensively in Terry McLaurin, and an extremely intelligent HC in Ron Rivera.
 Don't forget: This team gave the defending champion Tampa Bay Buccaneers trouble in the first round of the playoffs… with Taylor Heinicke at QB.
 So far, Washington found a way to improve their already dominant defense by adding William Jackson to the secondary to fill out an already solid unit featuring S Landon Collins and CB Kendall Fuller. Jackson was ranked in the top 20 by Pro Football Focus in terms of DB grades last season.
 Offensively, WFT was able to sign playmaking WR Curtis Samuel and veteran RB Lamar Miller to pair with the likes of Terry McLaurin and Antonio Gibson– which ultimately expands the array of weapons they can use offensively.
Now, maybe the biggest signing they've made addresses the QB position. Despite bouncing around the NFL, Ryan Fitzpatrick has proven himself to be a VERY serviceable QB and can win games while being efficient. With a roster that is good enough to win now, and based on what we saw this team do with the combination of Alex Smith (coming off a severe, career threatening injury), Taylor Heinicke, Dwayne Haskins, and Kyle Allen– I think Fitzpatrick can have some success here as the starter.
 So, with the upgrade in the secondary and the addition of several offensive weapons, plus the 19th pick in the 2021 draft– Washington was able to get better and solidify themselves as NFC East favorites. So far, they're winners.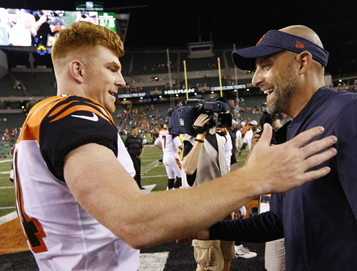 Chicago Bears:
For the past few years, Chicago has had chances to be great. They have elite players all over their defense, and big time play makers in David Montgomery, Allen Robinson, and Tarik Cohen on offense. However, QB Mitchell Trubisky never really worked out and the team was never able to recover from their "double doink" playoff loss to Philly in 2019.
    With an elite QB to help out a very average offense (with some play makers and a poor offensive line), this team could definitely re-open it's window to win a championship. They've even been in talks for major QB trade prospects Carson Wentz and Russell Wilson, but were unable to secure a trade for either.
Instead, they settled for… Andy Dalton.
 The team was able to retain a few key starters, but I think they actually downgraded from Mitch Trubisky in terms of what their offense needs in a QB to be successful. At the very least, Trubisky was mobile and could extend plays. Dalton is a pure pocket passer with limited ability to create and distribute by using his legs, which puts their offense at a severe disadvantage– especially when you see how bad their offensive line play has been.
 A very conservative, lackluster off-season has to be seen as a loss for the Bears, as their SB hopes with the core of this roster dwindling fast.Of all the teams so far, these are the 4 that stood out the most in terms of Winners and Losers.
 Here are some of the other teams that have had good/bad off-season's up to this point:
Winners:
Indianapolis– Resigned standout RB Marlon Mack to pair with Johnathan Taylor, traded for QB Carson Wentz to replace Phil Rivers.
 Kansas City– Rebuilt their interior offensive line with OGs Joe Thuney and Kyle Long.
 Miami– Added younger defensive depth in Benardrick McKinney/Justin Coleman. Brought in starting-caliber QB Jacoby Brissett, proven RB Malcolm Brown, and fixed major depth issues with the O-Line.
 Buffalo– Added depth all over their roster- including WR Emmanuel Sanders and QB Mitch Trubisky.
 LA Rams– Added Matt Stafford to potentially complete their offense and add some dynamic ability to the play calling for McVay. Also resigned pass rusher/LB Leonard Floyd.
Losers:
Philadelphia– With so many holes on this roster and the team being in so much cap trouble, they need to make some more moves to give themselves some flexibility moving forward with their rebuild. You can't rely on Howie Roseman's drafting ability to supplement talent on this roster… which would scare me as an Eagles fan.  Although they haven't done anything horrible, you can't really call this off-season a success right?
 Green Bay– Last season the Packers lost to the eventual SB champion Buccaneers, but this off-season they lost some valuable pieces in RB Jamaal Williams, C Corey Linsley, and starting LB Christian Kirksey. In response, they haven't done anything aside from retain Aaron Jones. If they want to extend their SB contention status, GB needs to fill these holes and add some more offensive talent around Adams, Jones, and Aaron Rogers if they want to make another deep run.
 Seattle– While they have made a few decent trades/re-signings, Seattle is in trouble with discussion of Russell Wilson wanting to be traded. If they can't figure out a way to protect their QB and provide him with an adequate enough roster to win, they will most likely have to trade him next off-season… Making your franchise QB upset is not a good way to start the new NFL year.