Y
Minutes ago, Adam Schefter reported that the Miami Dolphins are trading the 3rd overall pick to the San Francisco 49ers in exchange for the 12th overall pick, a 2021 3rd round pick, and 1st rounders in both 2022/23.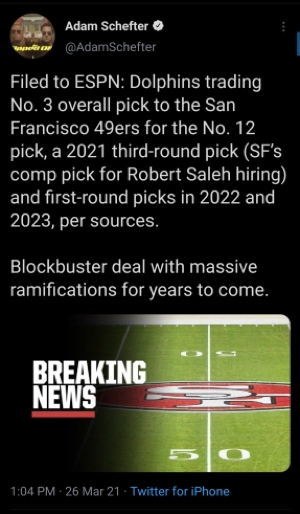 This image has an empty alt attribute; its file name is screenshot_20210326-133009_twitter.jpg
Tweet via @AdamSchefter
Right off the bat, I'm worried that the Niners gave up WAY too much.
This move, to me, is a huge gamble on one of the 3 QBs likely to be available at 3rd overall (Trey Lance, Zach Wilson, or Justin Fields).
All three of these guys have talent, but I see them as big time risks that require a bit of development. I don't think anyone other than Trevor Lawrence is "NFL ready" enough to take a team over the top as contenders immediately.
On top of this, the 49ers are said to have intentions on KEEPING Jimmy Garoppolo… So they want to keep a QB on the roster that they have under contract for nearly 140 million dollars AND trade 4 valuable, early round picks for another QB?
On the other hand, Miami has now flipped the picks they received from Houston into 4 first round selections plus an extra third rounder. They will likely let 2nd year QB/2020 1st round selection Tua Tagovailoa develop and compete with freshly signed vet Jacoby Brissett, while also giving themselves valuable early round selections to continue their accelerated rebuild.
The 49ers take a leap of faith on a rookie QB, while Miami continues to stock up on assets to build a team that just missed out on the playoffs after a 10 win season in 2020.
UPDATE:
Dolphins have taken that 12th overall pick, the 3rd rounder and a future 2022 first and traded that to Philadelphia for the 6th overall pick and Philly's 3rd this year.