he next social media platform that we are looking at this week is the use of an athlete's image on Instagram. This platform is definitely an interesting one to analyze since it uses only photographs and videos. Instagram is owned by Facebook and is part of the big five social media platforms in America right now. It started out as a very simple concept where a person or corporation could post a photo or video on the app. However, as Instagram involved and grew in popularity they started to adapt and change, becoming a medium where student-athlete's images are posted daily.
When it comes to posting graphics on social media, this is a key for any college athletics department. When looking at communications jobs in athletics departments, a requirement is the ability to use photoshop. This is so that the department can try and push out graphics on their social media accounts, with a focus on Instagram. Being above average at photoshop is a huge boost to any applicants resume when applying for a job in communications which shows the level of importance departments put on putting out great graphics. There are a few reasons for that the departments try to remain active on Instagram.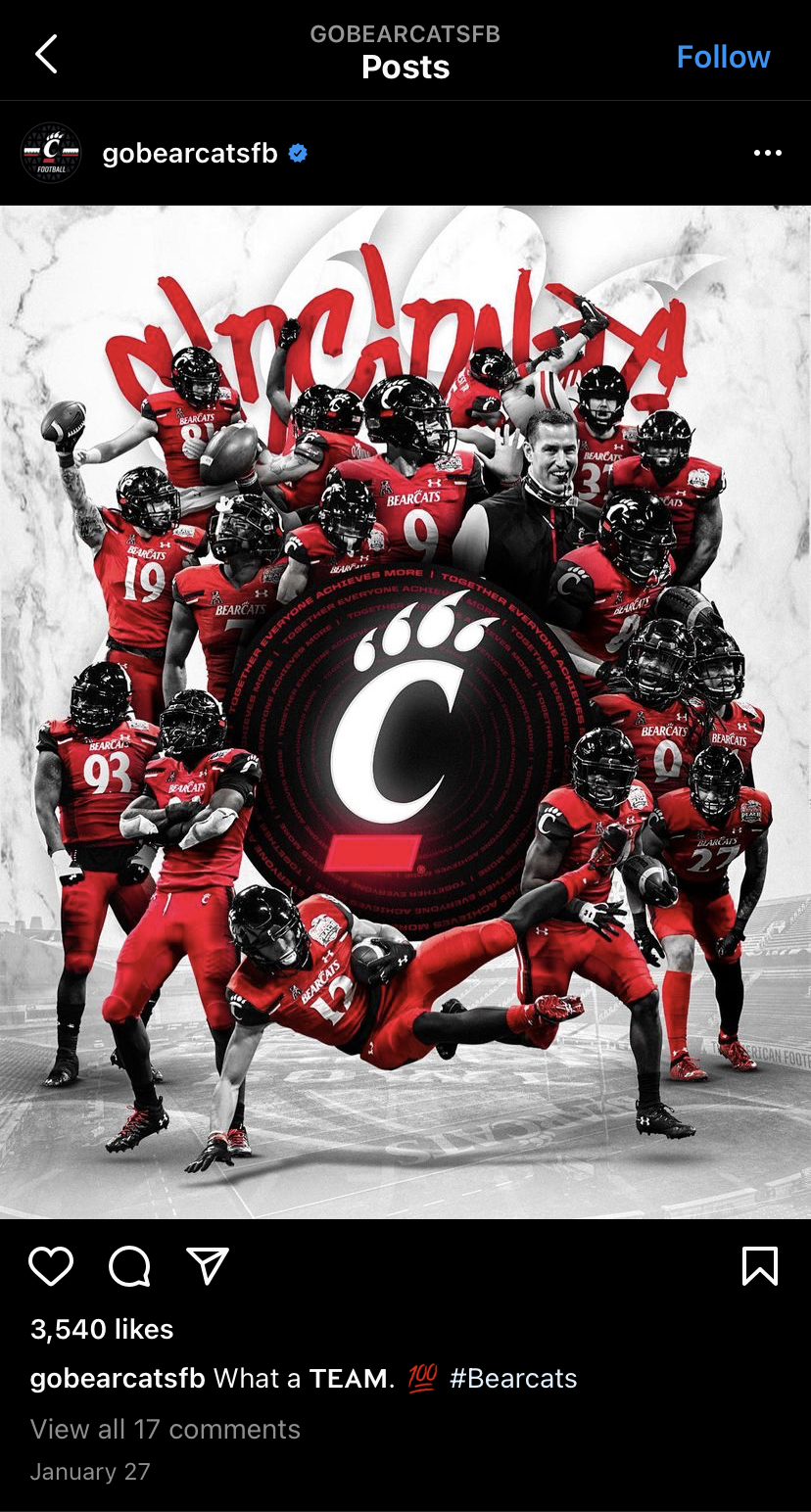 One of the reasons departments are put such a focus on Instagram is to appease the athlete. When they work as hard as they do and are bring in what they do for the school, a little bit of recognition can go a long way to make them feel valued. Another reason is simply to impress the fanbase. If a fan sees a great graphic of their favorite college athlete being posted all the time they are going to be more engaged and excited. Below are two photos from two different college football programs. The first is Cincinnati Football program which is a graphic of a bunch of their players. They are a smaller football program and their graphic on their Instagram received over 3,000 likes. The second photo is a photo of Ohio State quarterback Justin Fields who is a projected top ten pick in this year's NFL draft. This graphic was posted just days after they beat Clemson University to go to the national championship. This graphic of Justin Fields received over 32,000 likes on Instagram. This simple post on this platform helps give so much attention to not just the player but the program as well. The school are getting a crazy amount of impressions from this post and gaining a lot. Instagram also added the feature to post Instagram stories a few years back which also changed the way the app works. Pages could post something to their story where it stays for 24 hours for anyone to see. What a lot of departments do are have one of their athletes host question and answer events or a day in the life with the athlete. While they are not forced to do this, this is a big media day for a student-athlete and is wildly popular for programs. This brings a lot of attention and usually results in the clips from the highlights being posted on other platforms as well as sports networks will post the highlights and show the athletes personalities.
Instagram is a huge social media platform and is a huge focus for athletics departments. They often use clips and photos of their athletes to promote their page and try to get their content seen. For some student-athletes this can be a big inconvenience as there is media days, photo days, and sometimes they are responsible for helping run events on social media. This helps support the claim that I have made on this whole site that the NCAA and universities make profits off of not only a student-athletes skill, but image.